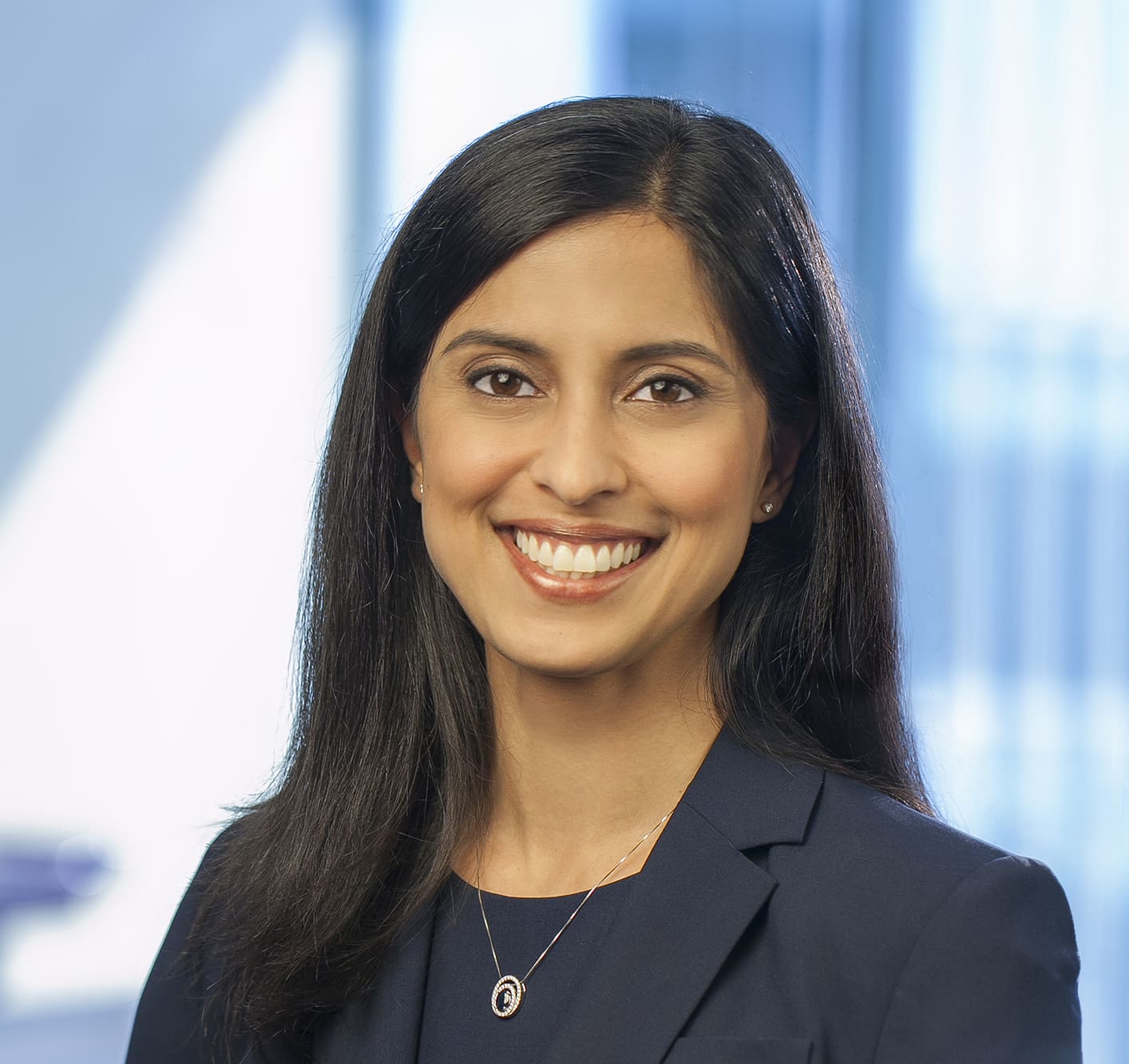 Usha C. Vance
San Francisco
Washington, D.C.
Usha Chilukuri Vance is a litigator in the San Francisco and Washington, D.C. offices of Munger, Tolles & Olson.
Her practice focuses on complex civil litigation and appeals in a wide variety of sectors, including higher education, local government, entertainment, and technology.
Ms. Vance returned to the firm after clerking for Chief Justice John G. Roberts, Jr. of the U.S. Supreme Court. She also clerked for Judge Brett Kavanaugh, then of the U.S. Court of Appeals for the District of Columbia Circuit and Judge Amul Thapar, then of the U.S. District Court for the Eastern District of Kentucky.
Ms. Vance received her law degree from Yale Law School, where she was executive development editor of the Yale Law Journal and managing editor of the Yale Journal of Law & Technology. While at Yale, she participated in the Supreme Court Advocacy Clinic, the Media Freedom and Information Access Clinic, and the Iraqi Refugee Assistance Project.
She holds a B.A. in history from Yale University and an MPhil from the University of Cambridge, where she was a Gates Cambridge Scholar. Before entering law school, Ms. Vance taught American history as a Yale-China Teaching Fellow at Sun Yat-sen University in Guangzhou, China.
Ms. Vance lives with her husband and three children in Cincinnati, Ohio. She has served on the board of the Gates Cambridge Alumni Association and as secretary of the board of the Cincinnati Symphony Orchestra.
Speaking Engagements
Panelist, U.S. Supreme Court Update, Minnesota Chapter of the Federal Bar Association's 46th Annual Federal Practice Seminar, 2021
Panelist, A Conversation with Former SCOTUS Clerks on Effective Amicus Briefing in the Supreme Court, hosted by the Multistate Tax Commission, 2021
Key Representations
A major technology company in an expedited, 15-month arbitration arising from a contract dispute with hundreds of millions of dollars at issue
The studio members of the Motion Picture Association in obtaining a $50 million stipulated judgment and permanent injunction against pirate streaming service, Omniverse
Disney in defending against claims of copyright infringement
The University of California in a variety of matters, including obtaining dismissal of a Title IX suit in federal court
Education
Yale Law School (J.D., 2013) executive development editor, Yale Law Journal; managing editor, Yale Journal of Law & Technology
University of Cambridge (MPhil, 2010) Gates Cambridge Scholar
Yale University (B.A., summa cum laude, 2007) Distinction in the Major; Phi Beta Kappa
Clerkships
Chief Justice John G. Roberts, Jr., U.S. Supreme Court, 2017-2018
Judge Brett Kavanaugh, U.S. Court of Appeals, District of Columbia Circuit, 2014-2015
Judge Amul Thapar, U.S. District Court, Eastern District of Kentucky, 2013-2014
Bar Admissions
California
District of Columbia
Ohio
Speaking Engagements
Panelist, U.S. Supreme Court Update, Minnesota Chapter of the Federal Bar Association's 46th Annual Federal Practice Seminar, 2021
Panelist, A Conversation with Former SCOTUS Clerks on Effective Amicus Briefing in the Supreme Court, hosted by the Multistate Tax Commission, 2021
Key Representations
A major technology company in an expedited, 15-month arbitration arising from a contract dispute with hundreds of millions of dollars at issue
The studio members of the Motion Picture Association in obtaining a $50 million stipulated judgment and permanent injunction against pirate streaming service, Omniverse
Disney in defending against claims of copyright infringement
The University of California in a variety of matters, including obtaining dismissal of a Title IX suit in federal court
Education
Yale Law School (J.D., 2013) executive development editor, Yale Law Journal; managing editor, Yale Journal of Law & Technology
University of Cambridge (MPhil, 2010) Gates Cambridge Scholar
Yale University (B.A., summa cum laude, 2007) Distinction in the Major; Phi Beta Kappa
Clerkships
Chief Justice John G. Roberts, Jr., U.S. Supreme Court, 2017-2018
Judge Brett Kavanaugh, U.S. Court of Appeals, District of Columbia Circuit, 2014-2015
Judge Amul Thapar, U.S. District Court, Eastern District of Kentucky, 2013-2014
Bar Admissions
California
District of Columbia
Ohio